The Modern Classic Fusion
Creating contemporary kitchens with character
One of the most exciting stages of planning a new kitchen is gathering inspiration. With an abundance of kitchen design inspiration at our fingertips, it's easy to get stuck on one of the first key questions.
A more traditional in style or contemporary kitchen?
The common conundrum clients face is that they want their space to have both character and elegance, yet feel up-to-date and timeless. If this is a question you're facing, a modern classic kitchen design could be the right approach.
At The Myers Touch, we're no strangers to this design brief. In fact, we've won design awards for this type of project, and we relish the challenge of fusing both traditional and contemporary design details. Read on to see some of the ways in which we can achieve this.
The details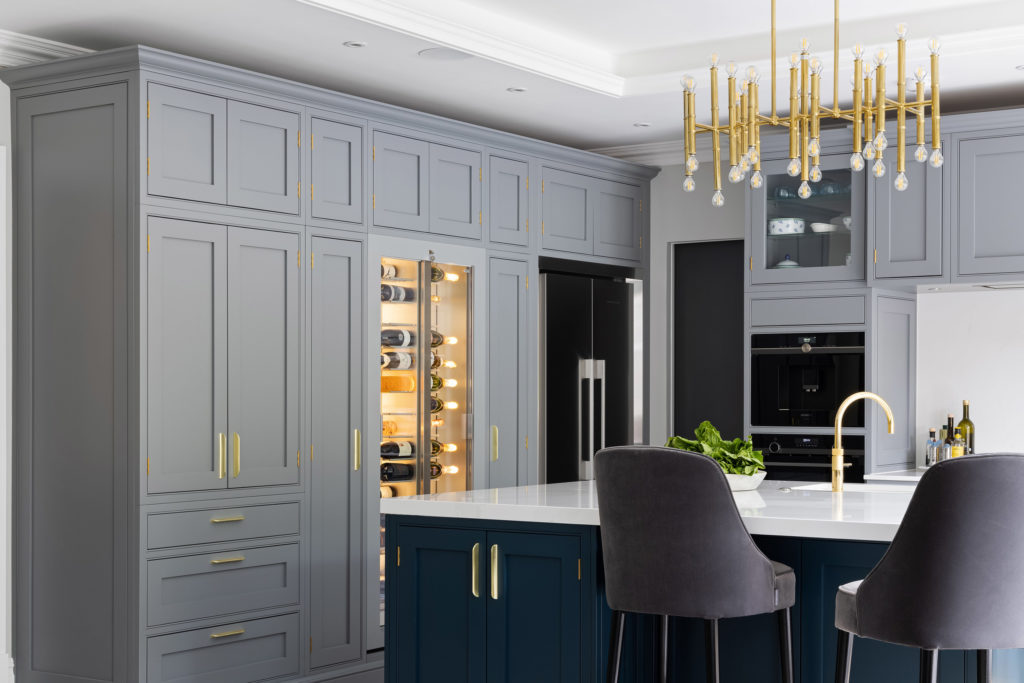 With a modern classic kitchen, you can expect elegant details like shaker doors, detailed mouldings, delicate beading and decorative hinges.
These details are then paired with more modern features such as polished brass hardware and sleek technology. Here we have incorporated minimalist Siemens appliances & the striking Teca Home Wine Cabinet for our wine-loving clients.
Our designers added elegance by using extra tall cabinetry matched with ornate cornice detailing. Not only does this maximise storage space, but it also draws your eye upwards, accentuating the height of the space and creating that sense of period grandeur.
Make it truly bespoke
At The Myers Touch, we consider every kitchen to be a bespoke kitchen. Every single detail is considered carefully with the client's tastes & lifestyle in mind, regardless of which range you choose.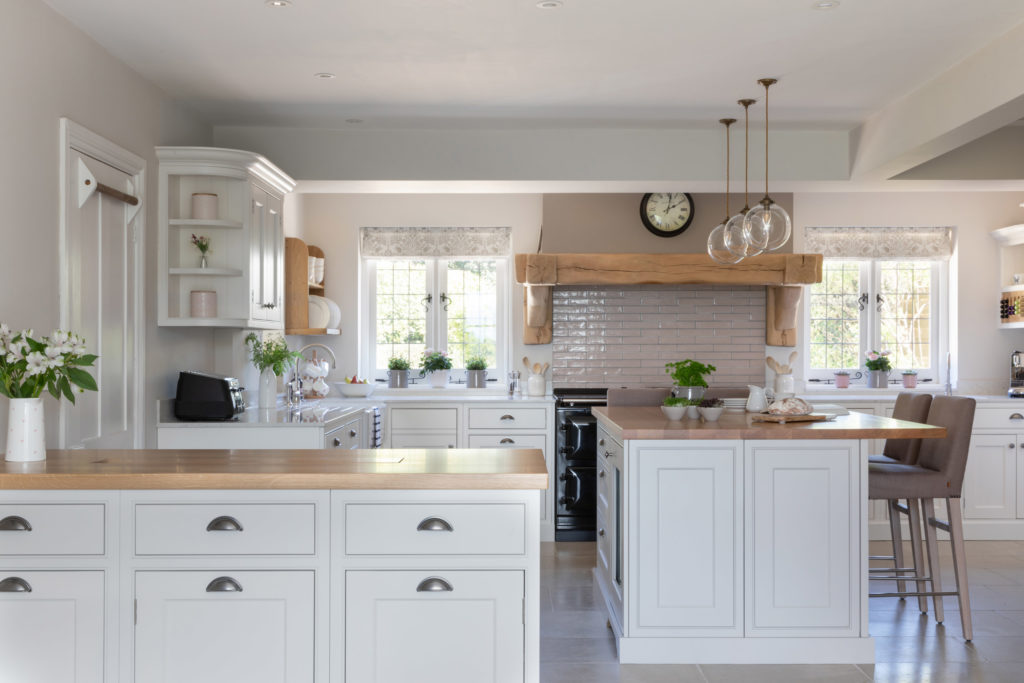 If you desire that quintessentially British hand-crafted, hand-painted look, we also produce cabinetry that is made bespoke for each client. This bespoke approach extends beyond the cabinetry too.
To create a classic, characterful kitchen that is designed for a modern lifestyle, we can add features such as pop-up mechanisms to reveal flat-screen TVs and custom-made wall units for elegantly storing coffee pods and mugs. Our passion is creating spaces as unique as you are!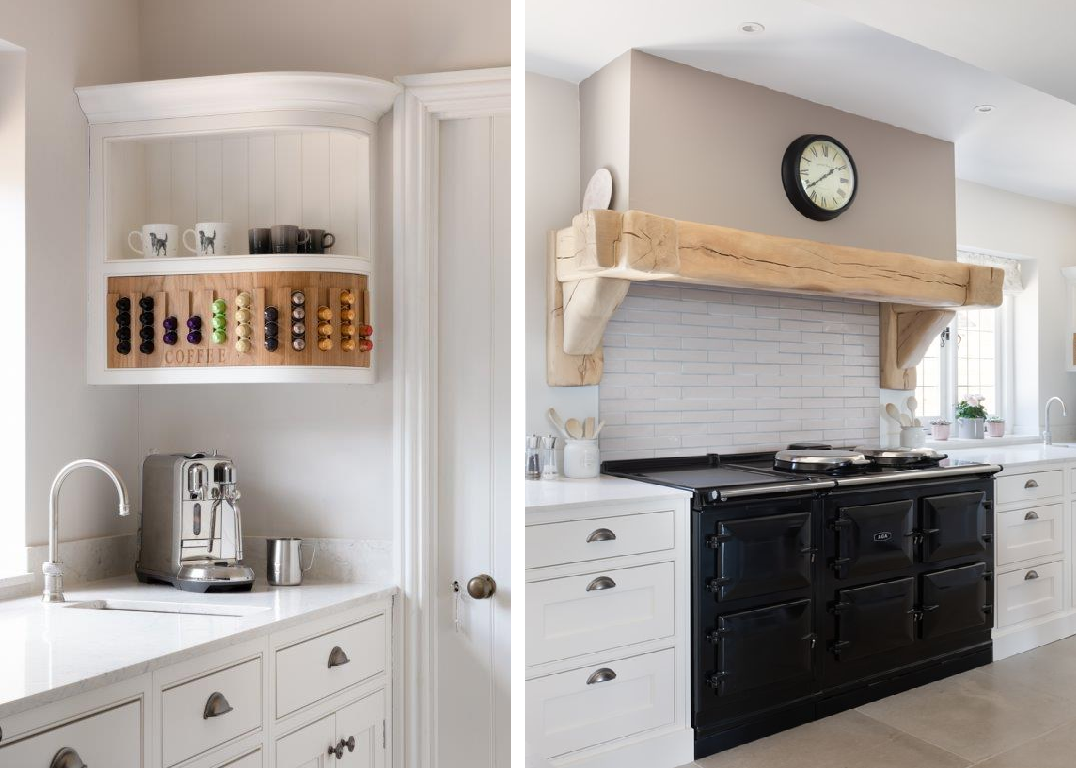 Experiment with different door styles
Another way to fuse traditional and contemporary design features is to combine door styles.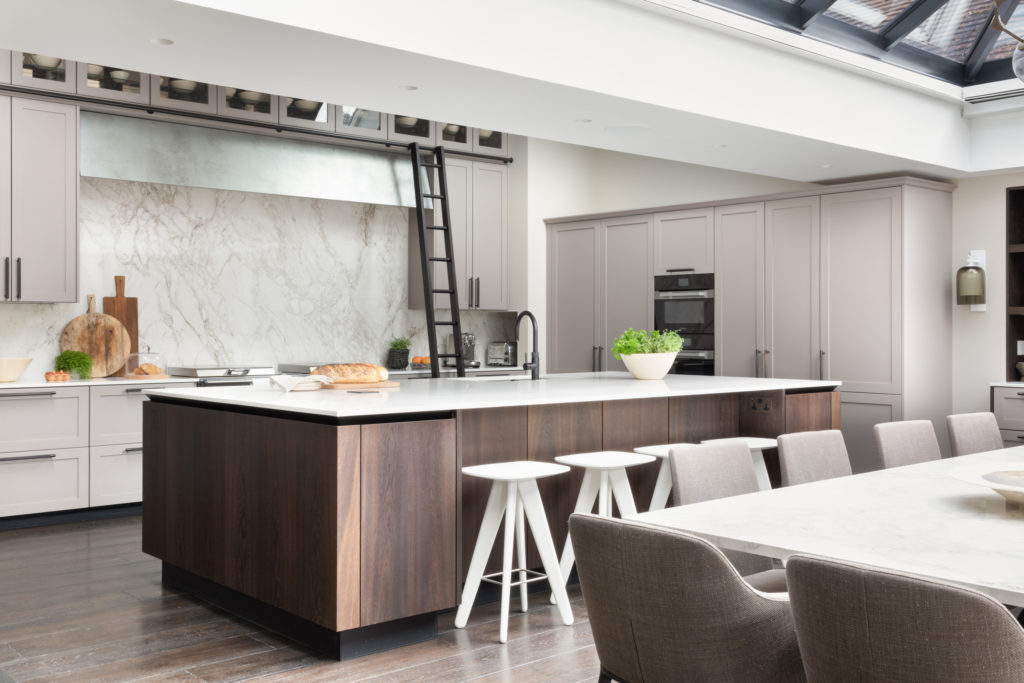 The high-level display cabinets, accessed using a ladder rail system, create a touch of stately home luxury which can be achieved without moving away from simplicity and clean lines. Combining different door styles allows us to break up a larger living space, creating an interior-designed feel, as opposed to a homogenous & traditional 'fully-fitted kitchen' look.
Enhancing the property's features
We are also experienced in creating a design that is sympathetic to a property's heritage and enhances its period features through a blend of modern cabinetry, worktops, appliances, materials and finishes.
For example, we removed the suspended ceiling that had been previously installed in this elegant family home to reveal a magnificent 4M high ceiling! Our designer set the kitchen height to lead from the top of the window architrave, sweeping over the hallway door to create an entrance niche with large banks of storage on the opposite side.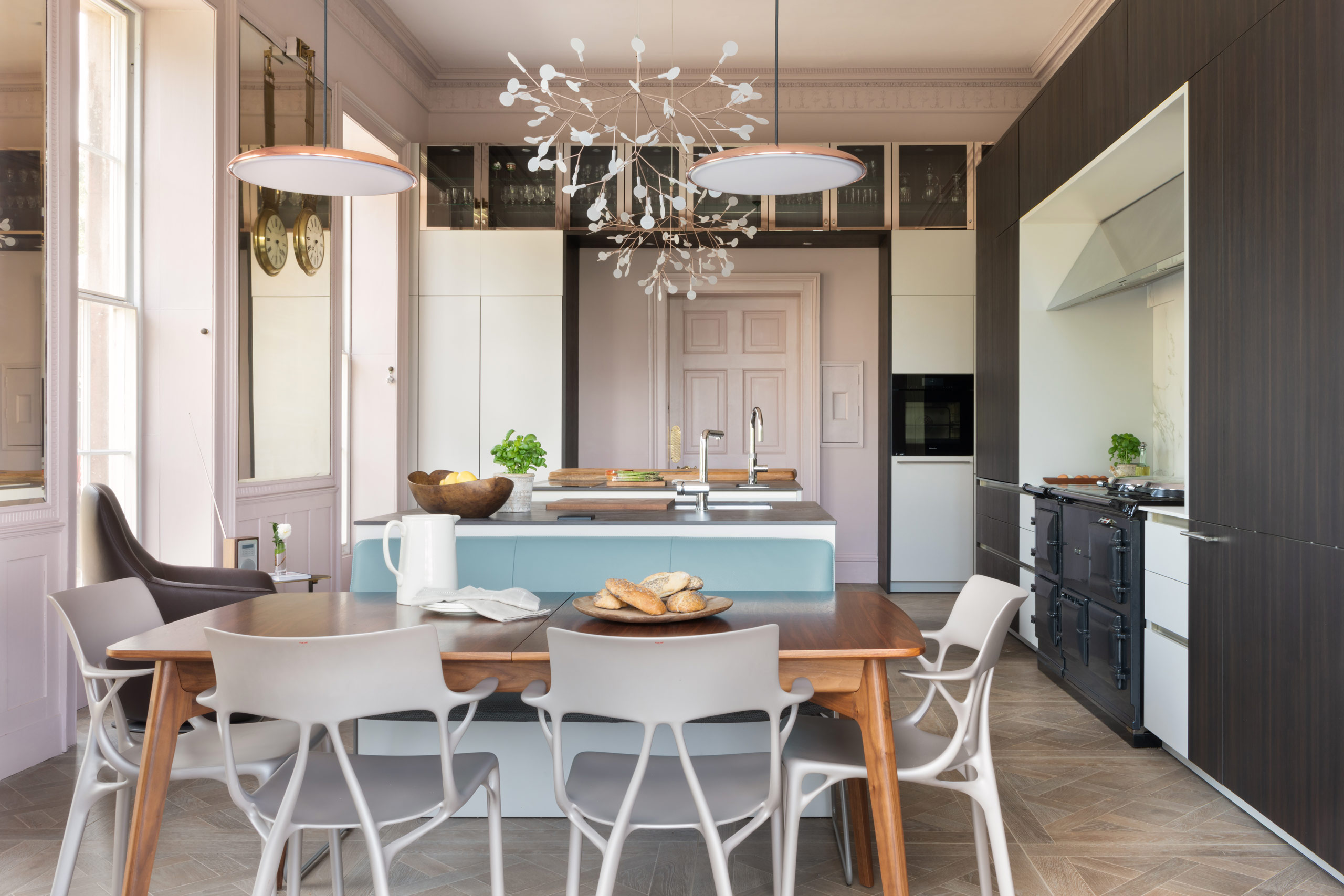 In the cooking zone, the AGA takes pride of place with dramatic Dekton Aura providing a striking and practical backdrop.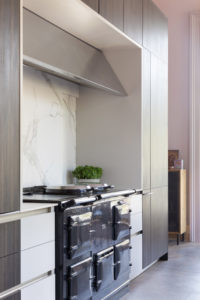 Contrasting Dekton Trillium surfaces on the island offer connectivity with the dark wood of the room, whilst bringing in a modern contrast with the older features.
Handleless, contemporary cabinetry was chosen for the wall cabinetry that was matched with Nickel gloss high-level cabinets to add luxury and contrast. The Pale Pink 'Edward Bulmer' paint tone on the kitchen walls provides a soft, welcoming feel to the family space.
Carefully Considered Colour
At The Myers Touch, we're not limited to the colour options and combinations we can create.
When opting for hand-made cabinets, we can finish them in any colour and we're here to advise you on the best shades to suit the light & space in your home.
In this example, we combined Farrow & Ball's contemporary 'Plummet' grey tone, which they describe as 'strikingly modern' with their iconic 'Hague Blue' – a shade of blue with subtle green undertones that help accentuate the brass accents.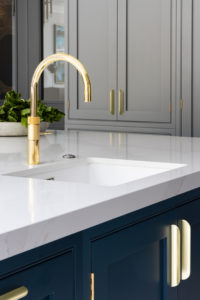 By using a modern colour on a shaker door, you move away from the 'country kitchen' aesthetic. The door colour and choice of hardware will determine how traditional or contemporary your cabinets feel.
As part of our design process, we work closely with our clients to strike the right balance that fits their personal style and suits the style of the property.
Creating a modern classic kitchen is more than just good design, it's about creating spaces that are personal and made just for their owners. Contrasting (but carefully chosen) design elements provide layers & depth to a space – a space which is truly personal to you.
To discuss your upcoming project, feel free to contact us and we'll be in touch to discuss how we can bring your dream space to life.
To view the full details of the projects featured, click here.